Vitamin Enriched Conditioner
☑ 25+ essential vitamins & minerals to enrich your hair
☑ Moisture balanced to replenish dry, stressed hair
☑ Energizes & Protects the hair from harsh styling products
☑ Adds fullness, thickness and shine to all hair types
Price: $31.00 + $5.00 Shipping
Size: 8 oz. (240 ml)
KEY POINT: Hair is composed primarily of proteins (88%). These proteins are a hard fibrous type known as keratin. Important to explain that we added Protein, Vitamins and Minerals to enrich and reconstruct damaged hair.
Synopsis
— Dayton Trichology Clinic has developed gentle more effective products with a Multi-Therapeutic approach.
— Vitamin Plus Conditioning Treatment enriches your hair with moisture and over 25 essential vitamins, minerals and amino acids.
— This Conditioner restores, energizes and moisturizes your hair and scalp through infusing the hair with all the essential amino acids, vitamins and minerals that your hair needs.
— Replenishes dry, stressed hair with moisture and helps to energize and protect your hair from harsh chemical treatments, styling heat, etc.
— The only product on the market with over 25 essential vitamins, minerals and amino acids, the essential building blocks of thicker, healthier hair.
— Compare - Better product but in the same general class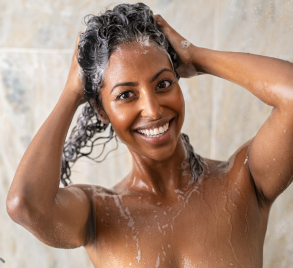 DIRECTIONS: Evenly distribute the conditioning agent in the hair, leave in for 3-5 minutes and thoroughly rinse with warm water. Gentle enough for everyday use.
SPECIAL TIP: May be used longer as a Conditioning Mask for up to 10-30 minutes. Longer time left on the hair will make for even better results.
Other Ingredients: Deionized Water, Stearalkonium Chloride, Glycerin, Safflower Oil, Hydrolyzed Wheat Protein, Ceteareth-5, Hexdecanol, Panthenol, Allantoin, Cysteine, Cystine, Methylparben, Propylparaben, Fragrance.
Contains these Amino Acids & Minerals: Aspartic acid, Cysteine, Cystine, Lysine, Lysinonorecucine, Tyrosine, Valine Histidine, Threonine, Desmosine, Isoleucine, Proline, Serine, Glycine, Alanine, Hydroxproline, Arginine, Lucine, Methionine, Phosphorous, Copper, Potassium, Zinc, Calcium, Magnesium, Isodesmosine, Sedium, Sulfur.