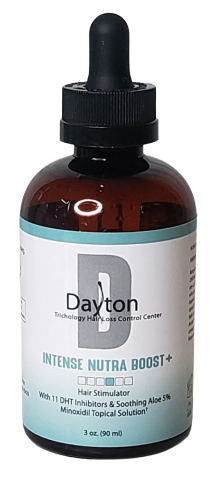 Intense Nutra Boost+
☑ 6 different ways - Made better (by adding 5% Saw).
☑ 1X per day for better morning hair, less irritation, and better compliance.
☑ Better application - Dropper applies 1ml directly on the scalp, not hair.
☑ Less irritation - Carrier Lotion neutralizes the effects of Alcohol and Propylene Glycol eliminating irritation.
☑ Better penetration - Carrier Lotion the hair follicle where hair growth occurs.
☑ Improved delivery system - Works in conjunction with Scalp Therapy.
☑ Higher Strengths available and the added benefits of 5% Saw Palmetto, equals better results.
Price: $129.99 + $5.00 Shipping
Size: 3 oz (90 ml)