Dr. Shawon Gullette, ND, I.A.T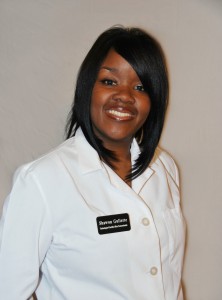 Dr. Shawon Gullette is a Certified Trichologist and Doctor of Naturopathic Medicine. She has been working to prevent women's hair loss in the Dayton, Ohio area for over twenty-eight years. Initially, she began her career as a hair stylist, however, Dr. Gullette was quickly inspired to learn how and why women lose their hair after noticing clients experiencing the problem and the traumatic effects it had on their self-esteem.
After completing her studies with the International Association of Trichologists, she became the first Certified Trichologist in the State of Ohio.
Dr. Gullette is the owner of Infinitee Salon & Spa and the Dayton Trichology Hair Loss Control Clinic. Most recently she added the title of author to her resume when she released her first book, "Hormones and Hair Loss," which explores the correlation between a woman's natural hormonal changes and its effects on hair. Dr. Gullette also collaborated with a team of scientists, chemists and dermatologists to develop new haircare products for the Pantene Gold Series by Proctor & Gamble. In addition, she has been interviewed on the nationally syndicated Tom Joyner Morning Radio Show and was honored as one of "Dayton's Top 10 Women," in 2010 (sponsored by Cox Media).
Known to her clients as "Dr. Shawon," she remains committed to the Dayton Community via her philanthropic duties, especially the "Hope for Hair Foundation," which provides free wigs to women suffering hair loss due to chemotherapy.