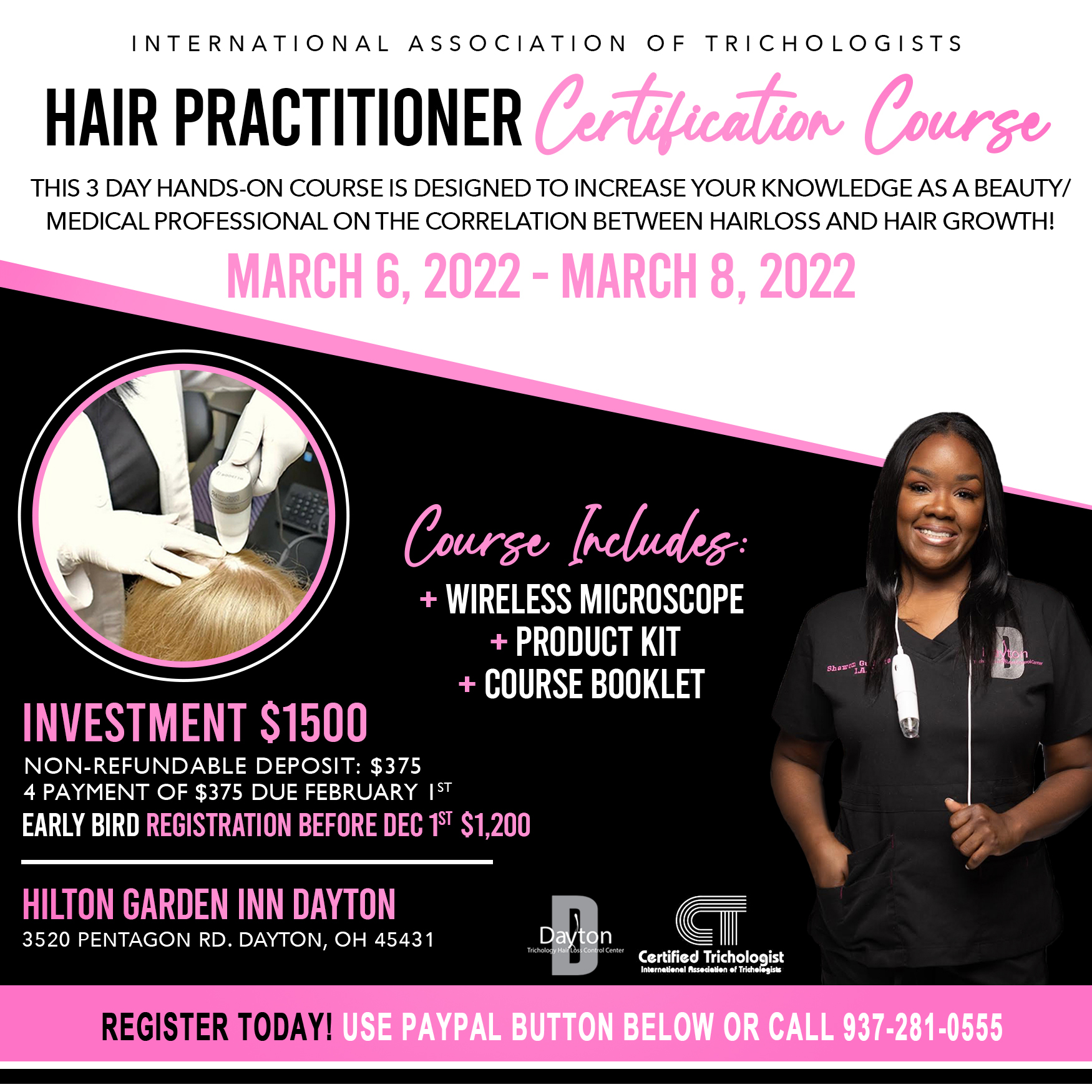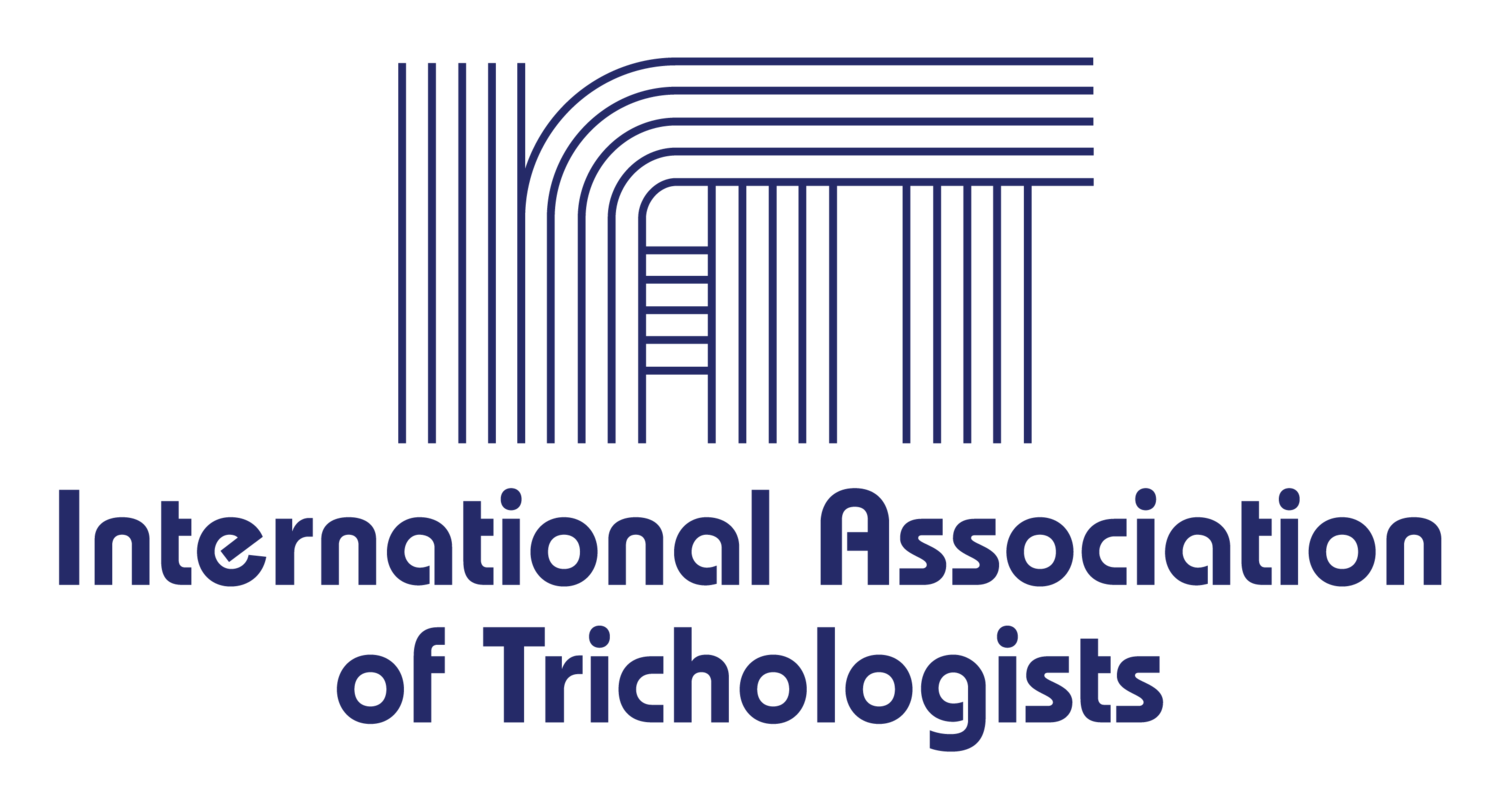 MARCH 6-8 2022
Hilton Garden Inn
3520 Pentagon Rd
Beavercreek Oh 45431
Numerous people are suffering from hair loss issues and are looking for solutions. I invite you to attend the International Association of Trichologists (IAT) 3-day hands-on introductory classroom training course and to allow me to start your journey into understanding hair loss & scalp disorders, while peaking your potential as a Certified Hair Practitioner.

The Hair Practitioner Certificate Course (HPCC) was originally created by The International Association of Trichologists (IAT), the most well-known and highly recognized trichology association in the world. IAT is a non-profit corporation founded in California in 1974 to promote the study, research and legitimate practice in all aspects of the treatment and care of the human hair and scalp in health and disease.

This course is designed for Physicians, Dermatologists, Health Practitioners, Licensed Cosmetologist, and anyone with an interest in hair loss, the health of the scalp, the science of hair, nutrition, diet, hormones, and chemical processes. This class will teach you to identify the internal and external factors that effects hair loss in women and men. If you are a cosmetologist, you will learn proper care and regime for your clients and become more aware of their hair loss and scalp issues. This introductory class is an overview of the fundamentals of Trichology, connecting the bridge between Cosmetology and Dermatology.

HPCC is designed for individuals who want more in-depth knowledge of the hair, how it is affected by chemical processes and, finally, information about some common hair loss problem The first part of this course is designed to provide you with a working knowledge of the physical and chemical processes of the hair and scalp. We will then discuss how chemical processes to the hair can lead to hair breakage. Finally, we will discuss the most common hair loss problems that can affect the hair. The goal is to give you Trichology knowledge about the hair and scalp so that you can then understand how internal and external factors can cause hair loss and hair breakage.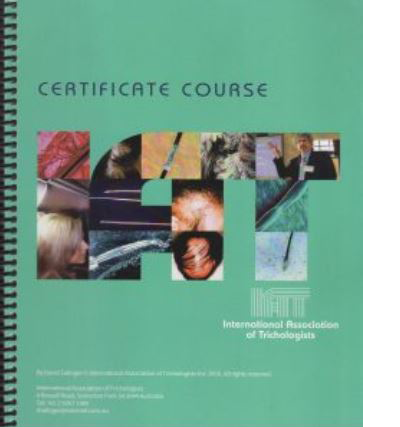 Day 1
Lesson One: Functions and structures of the skin
Lesson Two: Glands of the skin
Lesson Three: The chemistry and physiology of the hair
Lesson Four: Nervous and circulatory support systems
Lesson Five: Amino acids and bonds in the hair
Lesson Six: pH
Day 2
Lesson Seven: Cystine, cysteine and permanent waving
Lesson Eight: Coloring and de-coloring
Lesson Nine: Diffuse hair loss
Lesson Ten: Genetic hair loss in men and women
Lesson Eleven: Scarring alopecia
Day 3
Enhanced Natural Health Through Nutritional Influences
Microscopic Lab – Clinical training with volunteer patients

This course consists of:
A flash drive with 6 webinar lectures by David Salinger I.A.T.:

Relevance of pH
Disulphide Bond
Patches of Baldness
the Microscope
Hair and Scalp
Diffuse Hair Loss

3 days face to face classroom learning and practical clinical training
A detailed workbook
IAT approved exam
Certification from the IAT
Continental breakfast, coffee, tea, and lunch daily
Once you have completed the course, you have the option of taking your exam on the last day of the class under supervision. Upon successful completion of the exam, you will receive your IAT Hair Practitioner Certificate via Priority Mail a few weeks later.

Tuition Investment: $1,500 (does not include transportation or lodging if needed)* Ask about private one-on-one training or group rates. Course materials will be mailed via Priority Mail at least 4 weeks prior to class once you have paid at least 50% of your tuition.

*If you enjoy undertaking this course, you might consider studying the full trichology course leading to certification as a trichologist – a professional that specializes in hair loss and scalp problems. The Hair Practitioners Course will be recognized as prior learning (RPL). A portion of your payment (up to $250) can be credited towards the full Trichology Certification Course should you decide to continue your studies.